*Best viewed on desktop. If viewing on your handheld device, turn screen sideways to view horizontal. If you are using a social media link....FIRST CLICK 3 dots in top right corner to OPEN IN SAFARI OR BROWSER and then turn screen sideways to view horizontal.
Sea Kings Families
We made it through our very first full week of school! Thank you for your patience and compassion as we continue to find our way. The teachers and I appreciate all of your support, and want to acknowledge each and every one of you for the hard work you have put in to get us to this point. I am confident we can handle any challenge as we move forward if we focus on progress, not perfection. WE GOT THIS!!!
We can all agree that this is difficult, temporary, but difficult. Every day we are bombarded with breaking news, resources, and tips for success, please know there is no right or wrong way to move forward. The important thing is to keep moving forward, and recognize that our children are always learning. The most valuable lesson they are learning right now is how to respond to adversity, by modeling our own behavior. Let's continue to focus on modeling how to be flexible, how to be kind, how to be patient and how to be innovative in challenging times.
Please join me in recognizing the incredible work of our teachers, staff and District. Distance learning is not our first choice, but each and every member of our incredible team (that includes YOU) has adapted, grown and developed both professionally and personally over the last few months. I sincerely appreciate and admire​ our PVIS teachers and staff, many of whom have their own children or who have extended family members to take care of, they really are doing everything they can to ensure our students are given every opportunity to learn and grow.
_______________________________________________________
School Counselor's Corner

We are here to ensure that every student has the knowledge and skills necessary for academic success and personal growth. As your school counselors, we strive to empower students to embrace their full potential, to develop healthy lifestyles, and to achieve their academic, career and social/emotional goals. We will be

checking in with

ALL

students through thei

r

PE/ISPE class this trimester.
Please make sure your student views the WELCOME TO PVIS presentation and submit the GETTING TO KNOW YOU form, DUE this Tuesday, September 8th.
______________________________________________
Technology Update
Teams is updated and being used daily. APEX, supplemental curriculum is still being synced by District Technology and should be available early next week,
Tech Tips:
-Students should fully shut down their device daily and restart in the morning before class. This will allow updates, syncing, processing of video streaming, and loading to move faster.
-If you have a desktop or a laptop, download the Teams app for better performance.
-Close out other internet windows when in class and streaming for a better feed.
-Students should restart their device anytime loading or streaming is lagging is slow- this can improve performance.
-Students be patient when you click a login/link, continual 'clicking' will slow and confuse the processing.
_________________________________
Student Schedule Information
Please note, the schedule this week will be slightly different. Review the days/times below to be sure we are ready for success. When schedules are modified, I will do my best to notify you as soon as possible. We understand you have your own work/life balance to maintain and we want to be mindful of that too.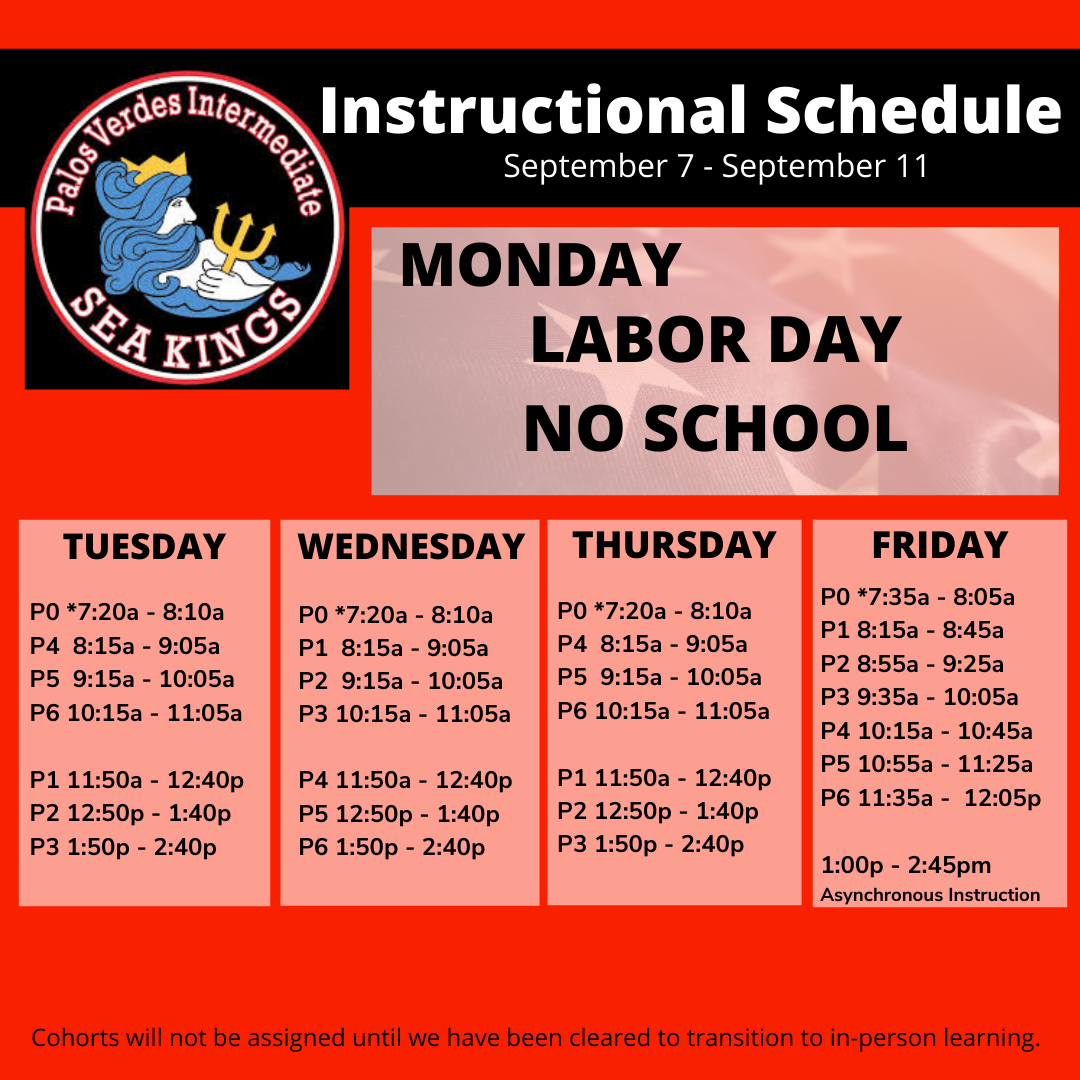 Be Your PVIS BEST Online

Learn more about being your PVIS BEST Online, starring our very own teachers and principal. Thank you to our incredibly talented PVIS Parent,Paul Holtzhausen (& family), for editing, producing, and directing!

Read More...
Instructional Schedule September 7 - September 11

Please note, the schedule this week will be slightly different. Review the days/times below to be sure we are ready for success. When schedules are modified, I will do my best to notify you as soon as possible. We understand you have your own work/life balance to maintain and we want to be mindful of that too.

Read More...
Superintendent's Update - September 4, 2020

Latest Message From Dr. Cherniss
SAVE THE DATE: VIRTUAL BACK TO SCHOOL NIGHT

September 17, 2020 6-8 PM

Read More...
Purchase Your Sea King Spirit Wear

Don't miss out on ordering PVIS spirit wear and show your SEA KING PRIDE!!

Read More...
Join PTSA 2020-2021

You belong in PTSA! The number one reason to join the PTSA is to benefit your child!

Read More...
Booster Club 2020-2021

Our goal is to create a positive & welcoming campus and to provide something for everyone at PVIS. Thank you, Amy Roche President, PVIS Booster Club

Read More...
Chromebook Drive 2020-2021

Please Support the 2020-2021 Chromebook Drive! Please consider making a donation in any amount.

Read More...
Parent Support Resources

Here are common support resources for students.

Read More...
School Meal Service Update – All Meals Free!

Curbside pick-up is Monday through Friday between 7:30am to 1:00pm at any of our five secondary sites. No pre-order required!

Read More...
PVPUSD Attendance Policies and Procedures 2020-2021

In accordance with the new California legislation SB 98, PVPUSD will be tracking attendance this year based on participation and engagement as outlined below.

Read More...
Wellness Resources

Parents.. Here are some great resources for student and family wellness

Read More...
Back to School Registration Information

If you have not completed BOTH registration steps (District & PVIS), please click here and do so now.

Read More...
Tips & Tricks For The Virtual Learner
Please review this helpful video, it's important to approach each day just as you "normally" would. This year will look different, but we are committed to your success!
Read More...
Parents Dont Forget to Donate to PEF

PEF has been supporting our PVPUSD students for 40 years and we are grateful for you! Now more than ever our schools need your support.

Read More...
________________________________________________
At the end of the day, we will work as hard as we can to get this right and flexibility will be critical. As we move forward, we will remain flexible with our students and families. Please communicate when situations come up, and we will work together to find solutions. You can always check our website for the "breaking news" if you hear something from other sources, I will do my best to update that with pertinent information to make sure you can always find the latest updates in the NEWS & ANNOUNCEMENTS section on the home page.
Join me on WednesYAY, September 9th for College Gear Day!!!
Submit your photo to win!! Follow @PVIS.Leadership on Instagram to learn more.
The best part of all of this being new......is that is is new....we get to determine our path moving forward!
As always, do not hesitate to contact me for support.
WE GOT THIS!!
Your Proud Principal,
Micah J. Farrell
Connect with me on social media:
@Principal_PVIS
Upcoming events: click below to show all