| | |
| --- | --- |
| | Principal's Message | Mr. Micah J. Farrell |
Sea Kings Families,
Hard to believe we are concluding the month of May and entering into our last few weeks of school. Next week, June 5th will be the last day of official instruction for the school year. Please make every effort to get missing or current work in by June 5th. The final week of the school year, June 8-12, will be time for teachers and students to close out the year with reflection and celebration.
I know I have said it before, but I think it bears repeating that the team work we have all displayed as parents, students, teachers, and staff has been remarkable. I am grateful everyday that passes to work alongside the PVIS community. Over the next few months, planning for the return to school will continue at the District level and through the Steering Committee. I will continue to keep you informed about reopening plans as they become finalized.
_________________________________________________________
Please Help Welcome The Newest Member of Our Staff.
Ms. Jennifer Egan, Assistant Principal.
Ms. Egan comes to us with a wealth of educational experience, most recently as the language arts and AVID teacher at Palos Verdes High School for 18 years. I look forward to working with Ms. Egan and know that she will be an integral part of our vision for our students.
As we welcome Ms. Egan, we wish Ms. Tsosie the best of luck in her new position as principal of Montemalaga Elementary. Ms. Tsosie has helped our school, students, and families in many lasting ways and will be missed.
Thank you Ms. Tsosie!
_______________________________________________________
SAVE THE DATE
Textbook and Chromebook Returns
June 10, 11, & 12.
An informational email will be sent via Aeries Communications on Monday, June 1st.
Locker Clean Out Days
June 17, 18, & 19th.
Again, an email with details will be sent to parents via Aeries Communications.
_________________________________________________________
PTSA Final General Meeting 2019-20 School Year
JOIN US TO HEAR UPDATES FROM
MR. FARRELL,
DR CHERNISS
AND PVPUSD BOARD PRESIDENT SUZANNE SEYMOUR
WEDNESDAY, JUNE 3rd at 2pm ZOOM:
Sea King News | May 29, 2020

Latest Sea Kings News Episode

Read more...
Teen Summer Reading Program

Teens 6-12 grade Keep track of how many books you read this summer - your own books, library books, graphic novels, or audio books! They all count! When you have read 5 books, you will receive a $5 Amazon gift card! Read another 5 books and earn another $5 Amazon gift card. Limit two gift cards per person while supplies last. Visit www.pvld.org/pvsummer for details.

Read more...
Public Hearing on District's Budget

June 24, 2020 at 6:30 pm

Read more...
Distance Learning Instructional Plan

Detailed Plan and Infographic

Read more...
SAGE Counseling Support for Students

During these challenging times students may be experiencing a range of emotions related to school or missing social connections. Our SAGE therapist, Jodie Shurtleff is available M-F 8-3 PM. Please contact her via email for more information shurtleffj@pvpusd.net

Read more...
Counseling Services During Closure

Click the school link below to request an appointment to virtually connect with your school counselor or student support specialist. These requests are monitored by the school site team during regular school hours (8 am-3 pm) Monday-Friday. The requested support personnel will be in touch with you within the requested time (during regular school hours).

Read more...
Our Commitment To Making Mental Health A Priority

Our District is dedicated to the mental health of every student.

Read more...
PVPUSD Summer Programs Update

IMPORTANT UPDATE FROM THE PENINSULA EDUCATION FOUNDATION REGARDING SUMMER SCHOOL PROGRAMS FOR 2020

Read more...
2020 PVCM Bridge to Algebra 1 Remote Learning Independent Study Program

More information regarding enrollment in Algebra 1 for the following school year.

Read more...
Story Time With Dr. Cherniss PVPUSD Superintendent

CLICK HERE for the latest story with Dr. Cherniss.

Read more...
___________________________________
From our PVIS School Counseling Department
______________________________________________________
Carl Pawl Science
Scholarship Award Winner 2019-20
Mr. Pawl was a former science teacher at PVIS that passed away in 2000 and a scholarship award was established in his honor. The student recipient excels in science, but shows equal passion, dedication, and hard work in the fine arts and leadership.
2019-20 Carl Pawl Scholarship Award Winner is...
Rose Feng

_________________________________
PVIS LEADERSHIP VIRTUAL SPIRIT DAYS..
DISNEY DAYS
_____________________________
SURPRISE!!
PVIS TEACHERS DELIVERING 8TH GRADE PROMOTIONAL SIGNS
A very big thank you to Amy Roche and Heather Elkin for helping with ordering yard signs for our graduating 8th grade class. I am so thankful to Ms. Wakida, Mr. Barks, Mrs. Tdosiev, Ms. Smith, Ms. O., Mrs. Lehault, Mr. Fajardo, Mr. Sanz, Mrs. McKenna, Ms. Schofield, Ms. Green, Mrs. Scott, Ms. Foster, Mrs. Starodub, & Mrs. Nuber for delivering with me this morning! Another example of the incredible collaboration here at PVIS! We are all on the same team, and I couldn't be prouder to be your principal!!!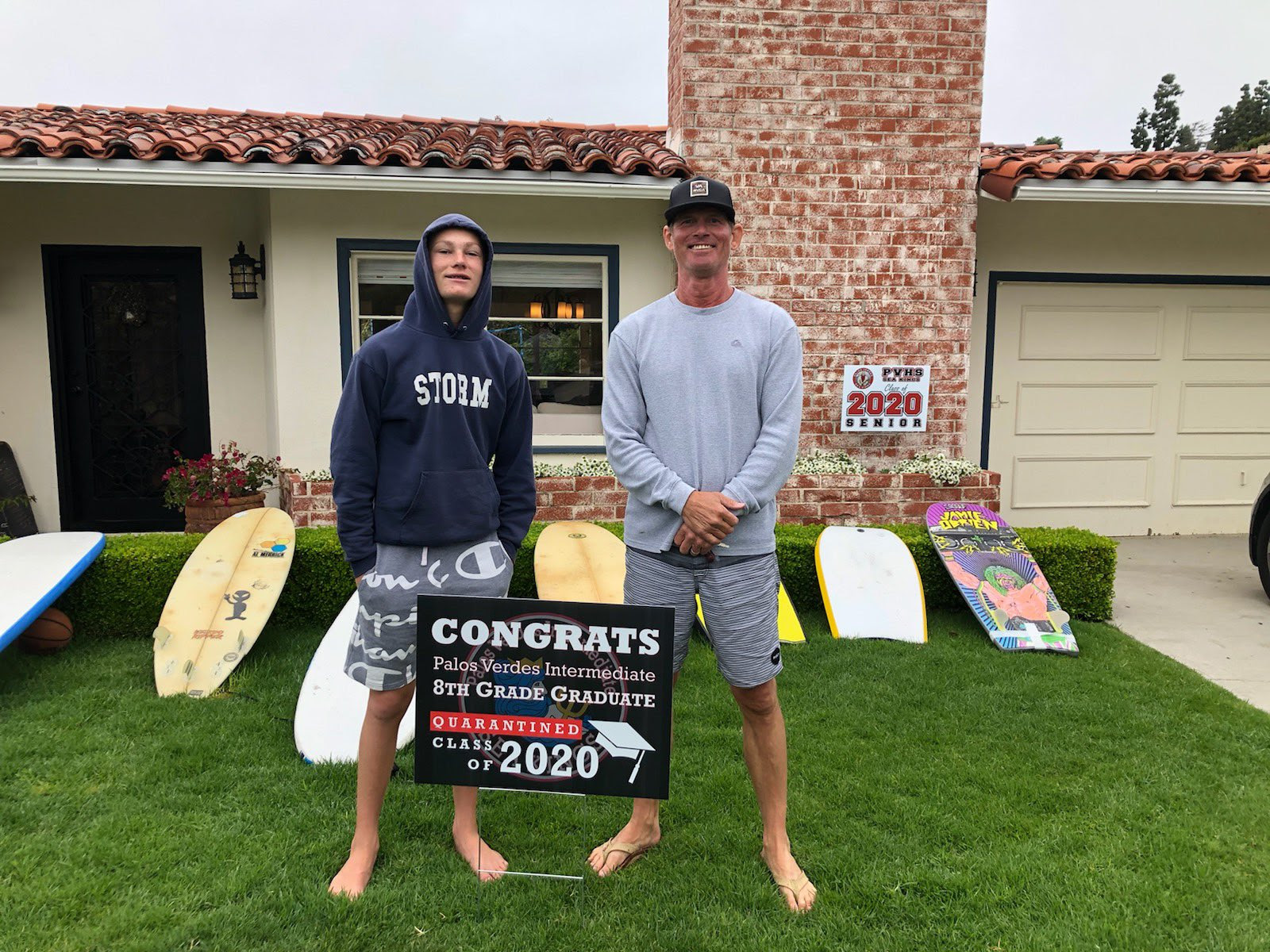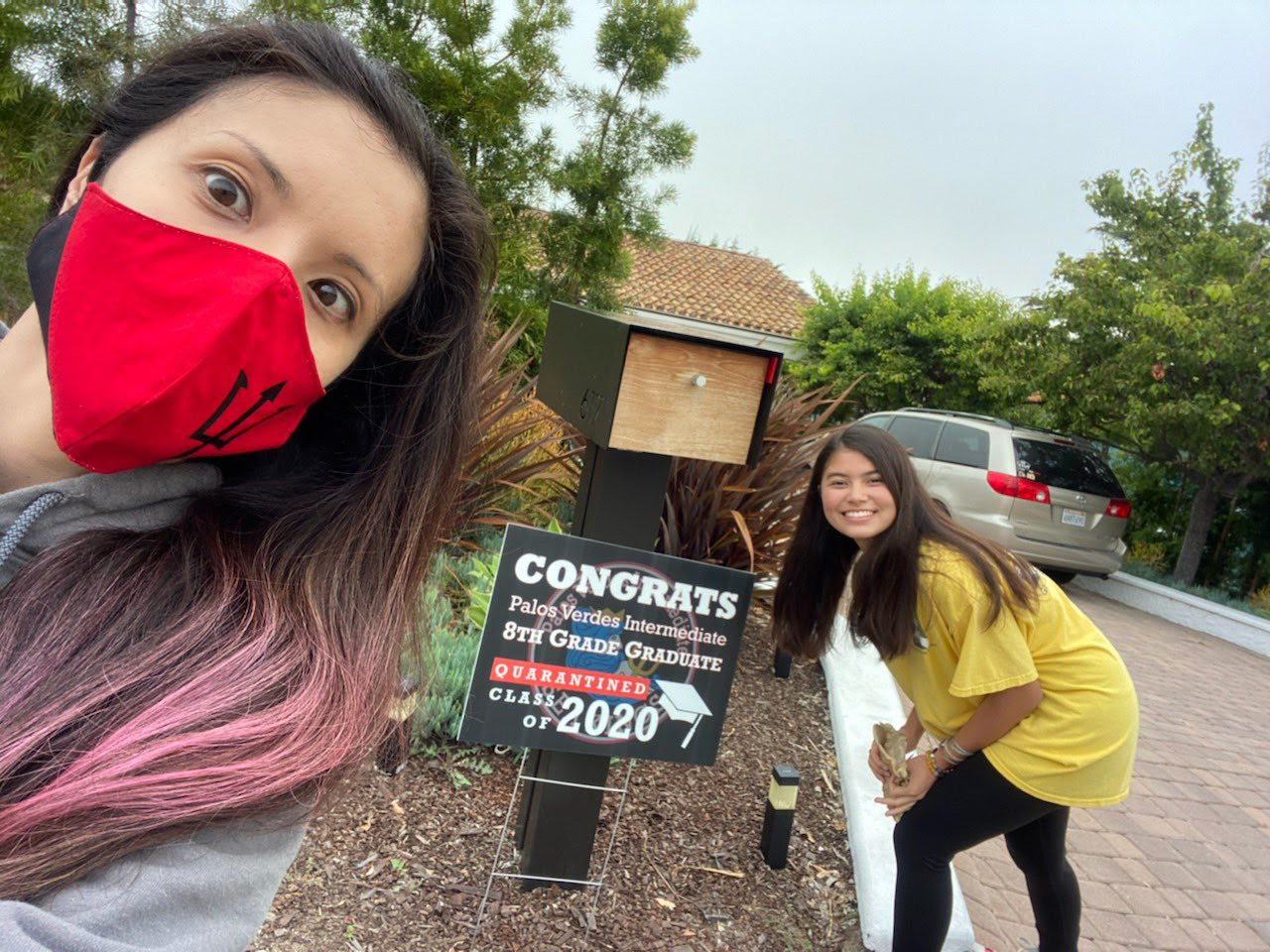 .
.
.
.
You are receiving this email because you have provided your email address to Palos Verdes Intermediate. 2161 Via Olivera, Palos Verdes Estates, CA, 90274-1983