| | |
| --- | --- |
| | Principal's Message | Mr. Micah J. Farrell |
Hello Sea Kings Families,
We have been together apart since March, and now begin to conclude the 2019-20 school year. During this time it is safe to say that none of our families, teachers, or staff have gone unaffected by our school closure. Grief and loss are very real emotions we have all experienced. Of course the level to which the grief or loss has had an effect, is relative to the individual situation. As final grades are issued and planning for next school year ensues, I encourage our community to continue to be understanding of one another, show patience, compassion and kindness. We may not always agree with one another, but working together and keeping the students at the center will allow us to not only find common ground, but move forward together to support our kids.
_________________________________________________________
It's classified employee appreciation week for our District. A week dedicated to celebrating and honoring the dedicated support staff who serve our students, schools and district.
Classified staff are employees who often work outside of the classroom and support the education of our students by managing front offices, preparing and serving lunch, keeping school grounds and buildings maintained, making sure computers and classroom technology continue to function and so much more.
The work of our classified employees isn't always visible to the community, but it enables teachers and administrators to focus on teaching and learning. Without the dedication of our support staff, our schools could not function properly and we would not be able to educate children.
This support is critical to student success and I encourage our entire community to join me in celebrating these amazing staff members and their commitment to providing the best educational experience for our children. Classified employees deserve our gratitude and appreciation not only this week, but all year long for their important contributions..
Thank you classified staff for all you do!
________________________________________________________
What's Trending...??
Textbook and Chromebook Returns June 10-12. A schedule and procedural information will be emailed through Aeries Communication.
Locker clean out schedule the week of June 15th. A schedule and procedural information will be emailed through Aeries Communication.
_________________________________________________________
PVIS Booster Club Remote Activities

Clubs and Projects to help get you through the rest of the year!

Read more...
PEF Online Auction

The Main Event Online Auction closes tonight at 930pm. The entire PVP community can participate in this event and help raise funds for our PVPUSD students and schools.

Read more...
2020 PVCM Bridge to Algebra 1 Remote Learning Independent Study Program

More information regarding enrollment in Algebra 1 for the following school year.

Read more...
South Bay Families Connected

Resources To Help Youth Thrive

Read more...
PVPUSD PRESS RELEASE 5/8

K-12 Schools in LA County to Reopen in Stage Three of Five-Stage Plan

Read more...
If you missed the May 13th Board of Education Meeting

View the video here

Read more...
SAGE Counseling Support for Students

During these challenging times students may be experiencing a range of emotions related to school or missing social connections. Our SAGE therapist, Jodie Shurtleff is available M-F 8-3 PM. Please contact her via email for more information shurtleffj@pvpusd.net

Read more...
Sea King News | May 8, 2020

The latest Sea Kings News Broadcast

Read more...
Distance Learning Instructional Plan

Detailed Plan and Infographic

Read more...
Supporting Parents and Youth During the Corona Virus School Closure

Many adults are wondering how to discuss the coronavirus in a way that will be reassuring and not make kids more worried than they already may be. Fortunately, there are some great resources from our youth wellness partner, South Bay Families Connected.

Read more...
PVPUSD Summer Programs Update

IMPORTANT UPDATE FROM THE PENINSULA EDUCATION FOUNDATION REGARDING SUMMER SCHOOL PROGRAMS FOR 2020

Read more...
FAQs about School Closure

Latest News & Information

Read more...
COVID-19 Updates

The latest news, bulletins and announcements.

Read more...
Story Time With Dr. Cherniss PVPUSD Superintendent

CLICK HERE for the latest story with Dr. Cherniss.

Read more...
Leadership Highlights
Super Hero Day
Decade Day
Trivia Night
: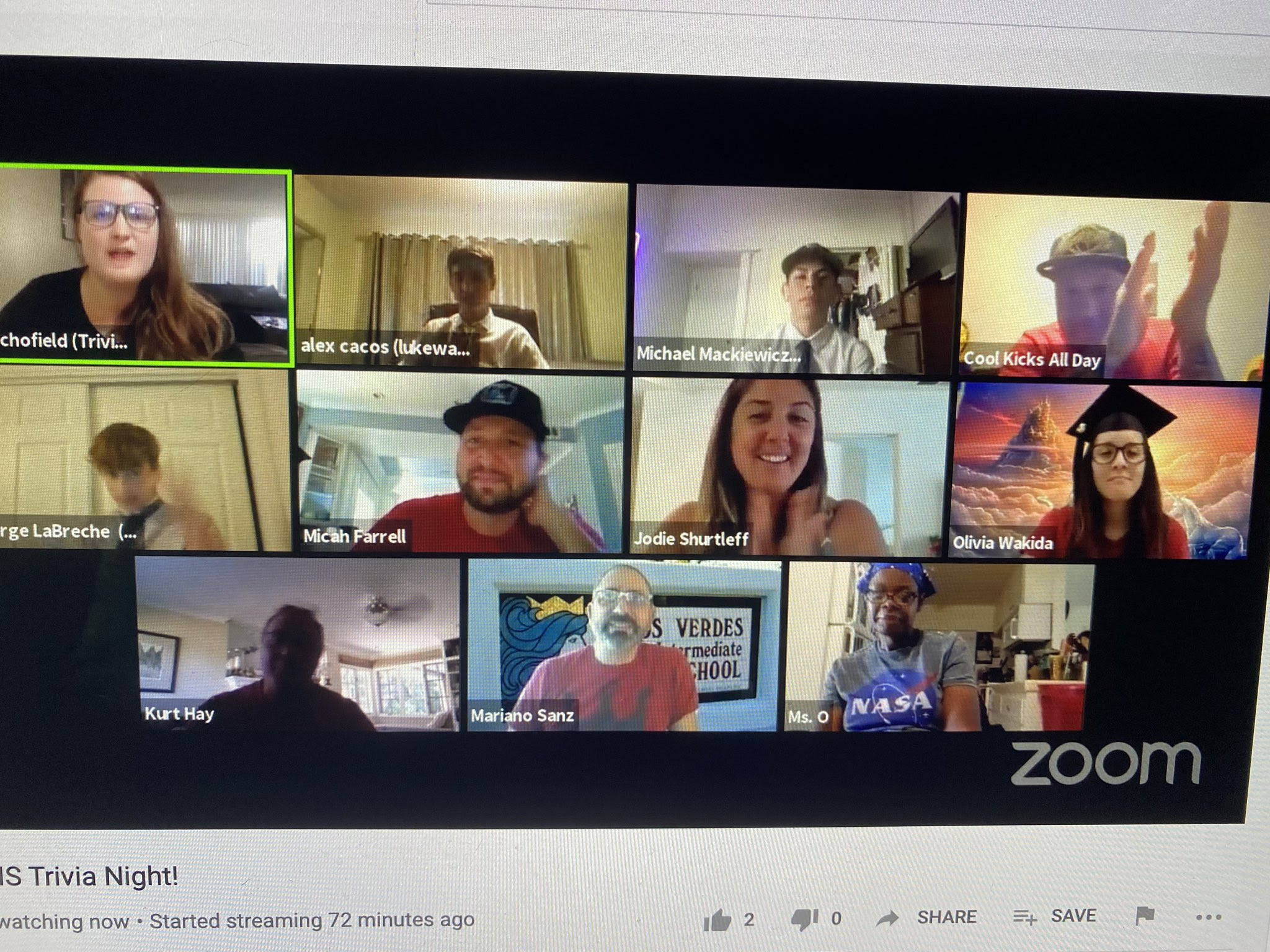 NEXT WEEK SPIRIT DAYS:
TUESDAY: Crazy Hair Day
THURSDAY: TikTok Day
Weekly Challenge: Make a TikTok in PVIS gear/colors
_______________________________________________________
We appreciate everything that you are doing at home to support learning and promote the continuity of instruction via a remote setting. I could not be more proud of the partnership between our parents and staff. Please continue to reach out to us with any questions that you may have. Our school and district websites are the best sources for the most updated/accurate information. We value your feedback and continue to adjust, overcome challenges, and collaborate to best meet the needs of all students.
Please do not hesitate to contact me.
Micah J. Farrell
Proud Principal PVIS